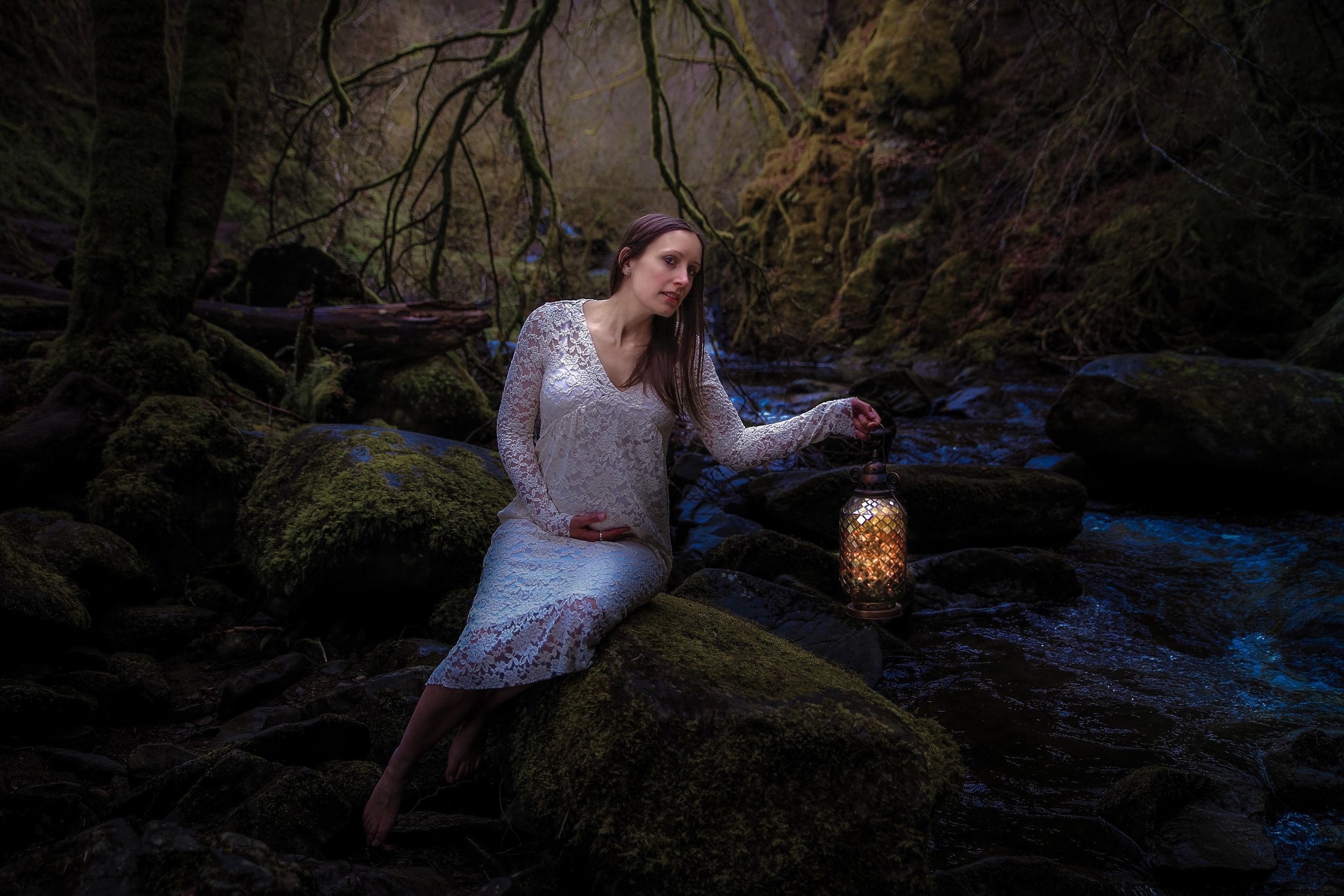 Bribery, children and a bucket of rain
I had bonded! Or so I thought…
We were at the Hermitage in Perthshire with the Huard's, a French family holidaying in Scotland wanting a momento of their trip. Right on cue, 3 year old Duncan ran towards me as I knelt on the forest track, coaxing him to comply to Koalas direction. He hugged me with an 'entente cordiale ' not seen since De Gaulle and Churchill!? His parents.. 5 month pregnant mum Emma, dad Mike and sister Leah had assumed their holiday pose but young Duncan had other ideas! 'Children and animals' and '…never work with' went through my head. Koala looked apprehensive. I pondered whether Winston and General De Gaulle actually did get on after all? Perhaps it was diplomatic not to raise that historical question.
We had already thought about cancelling the day, waiting in the truck, the rain bouncing with persistence on the windscreen. The Met Office rain monitor had obviously been on a tea break when we checked their particular forecast. The cloudy with sunny spells icon was clearly a typo by the stand-in tea boy. I chose to check my Accuweather app for an alternative outlook…. and it smuggly verified that the observed rain..with rain showers, was the current precipitation for the Dunkeld area. I was smug too. Accuweather got the icon right.. Smiley face with thumbs up.
It did however predict a lull in the current rainfall, clearing for the rest of the day. We debated and chose to stay and wait. I dug out the umbrella just in case. Koala was still recovering from an incident in a hailstorm earlier in the week and was a little, shall we say… a little protective of her beloved Canon now. There is nothing worse than a wet toggle!? The Huard family were keen and not about to let a little bit of Scottish weather disrupt the last days of their holiday. They had umbrellas too. They loved Scotland… and the weather!?
Their enthusiasm was warming. Am I getting old and sentimental? Duncan had chosen to take advantage of the freedom…and run! He obviously hadn't read Koalas script. 'Whimsical' was not a word that translated well to a French 3 year old. I do know a bit of the parlez but to be honest, I've never really known what the feckin word meant in English… so instead I opted to get on my knees in the mud and pull my best peekaboo face to try and get him to comply! It worked… Brexit was forgotten! Duncan ran toward me giggling as he threw his arms round my neck! Koala had her shot. I still had the skills.
The euphoria was sort lived. Duncan stood and looked disappointed. My bubble was burst. It was pointed out that he had been told that I would give him food if he ran and hugged me!? I deflated…and was given a box of raisins. This wasn't really the life lesson I set out to teach young Duncan, but Koala was happy so this was different, this was art… and bribery was working. I soon got over any moral dilemma and began throwing raisins to Duncan like bread to a duck! I must remember to add a box of assorted dried fruit to my pack in future.
It was clear that Emma and Mike loved Scotland. Their enthusiasm for the landscape, the people and history was infectious and they wanted to make Scotland home in the next few years. I reminisced and pondered the circumstances for our immigration, that both Koala and I had encountered separately. I pondered our paths.. fate.. karma. Shit I am getting sentimental!? Working with Koala is, despite my occasional, shall we say.. 'grumble', always entertaining and allows us to meet people from other countries, who are interesting, cultured and most often well travelled. People that have chosen to visit Scotland.
Koala laughs.. she is often asked why she would choose to live in a wet, windy and largely dark country, coming from a country that is meteorologically and geographically opposite?! But this is never a question asked by our clients… they just get it. That 'belonging' feeling that draws and holds visitors to Scotland, from all parts of the world and Yorkshire. There is a mutual appreciation of the inherent beauty in this landscape, the history ..the unpredictable feckin weather!! The rain starts to fall again and the romantic skirl of bagpipes in my head abruptly silenced as Koala shouts.. 'Look at the light… the light!!'
Duncan looked longingly for another raisin.
Emma saw the light too and wanted more. I looked at her quizzically! Was it lost in translation? She had a bump!! Koala didn't hesitate. Discussion were made and the family retreated back to their holiday home and our au revoirs were made… now I had a new concern. Koala had all she needed.. a vision, a white dress and a very pregnant Emma! I needed to be alert. This was a new combination of dangers. Would Koala adapt her focus? She's been there!? Twice!! I pondered this as I helped Emma take off her boots and positioned her bare feet, as directed, on a rock, in the middle of the freezing Moness Burn, sat on a mossy boulder, in the steep sided gorge of the Birks of Aberfeldy. Shit I didn't pack clean towels!! I'm no midwife!! But Koala adapted. A concession was made and it was perhaps too much to recreate the Timotea shampoo advert… actually stood in the waterfall.
Koala had her Mother Earth shot and I handed Emma the tartan picnic blanket, at least she had dry feet, I had no reason to call the nearest maternity unit and Duncan would have to wait for his new sibling!
Whimsically yours,
Richard
I was born in Leeds and grew up in the military. Which thankfully has put me in good stead to 'look after' the Koala. I carry the tripod, hold the reflector, drive the truck, make the sandwiches and ensure that the clients have everything they need. So basically I do everything apart from press the button... sorry.. shutter! Apparently I am a hidden literary gem so I get to write the blog and provide creative input when asked!