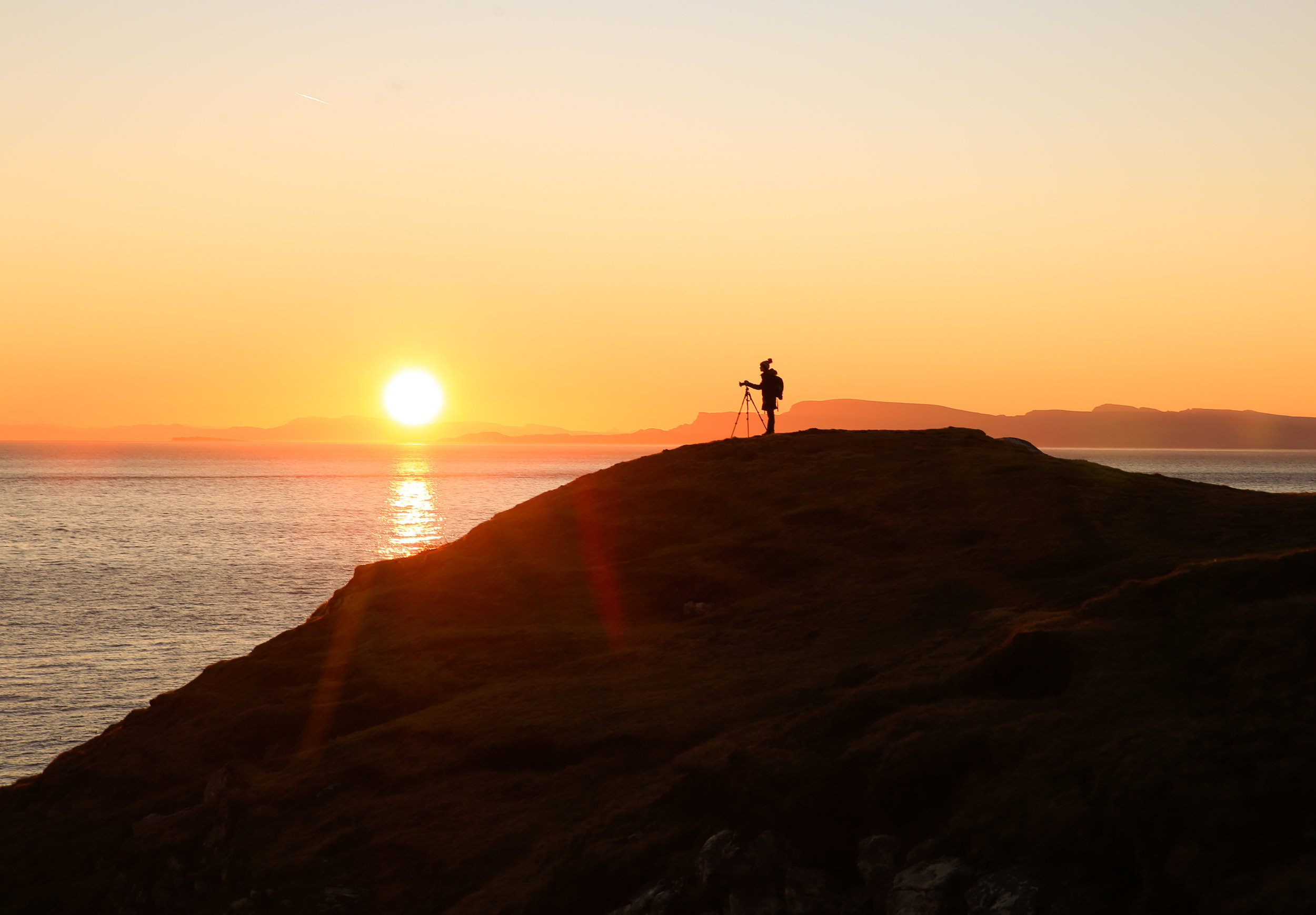 in Landscape Photography?
Do you fancy a trip to the Outer Hebrides… to Harris?
The opportunity to spend a weekend on a spectacularly beautiful island was just too good to miss.. especially in November! 'No feckin camper vans!' Koala was excited. This was to be an unexpected fourth trip to Harris within a year. I was excited too, if indeed a little apprehensive. We wouldn't be travelling alone. This was to be a 'proper' photo trip.. with photographers. Proper photographers… with proper tripods… and a drone with a Hassle-bad(?) lens. Apparently that's a good one.
'If I could take an image half as good as you this weekend then I would be happy' I heard myself saying.
This was new territory for me… these folk were serious. Even Koala briefly slipped away from the familiar chat and was overheard discussing 'f-stop settings' in a little too much detail for my involvement or engagement. I reminded myself that I was among friends and perhaps they knew my limitations. Yes I carried a tripod.. and yes I could erect it with proficiency, but did I know when to use it or in fact.. who made it? That I'd have to check.. along with its rank on the the relative photo geek scale of manufacture. Come to think of it.. I seem to carry it a lot but can't actually remember when we last used it? I pondered whether I should bring this up right now.. particularly in this company. So instead I chose humour, unrelated anecdotes that unsuccessfully attempted distraction. I opted to observe. Maybe learn. Maybe even I could get that decent landscape photograph?! Can you do that on an iPhone?
So off we set on the long trip north..
An Aussie, a crazy Italian, a retired Trawlerman from Aberdeen and our host.. Shahbaz – a Dundonean of Eastern Promise with a car full of equipment.
It could have been an intro for a joke but I was struggling for inspiration. I was in an anxiously, unfamiliar and underexposed area of conversation between acknowledging that I had no knowledge and nodding approvingly pretending that I had. This was a 6 hour trip. I needed to up my game.. I wasn't even the driver.. I was a passenger on a Photographers trip! Koala smiled reassuringly beside me. She talked a good game and she knew that I knew what she knew and I began to glaze a little at the talk of ND Filters. But she played to her strengths and blagged it with her own brand of conviction and a deflecting promise of a trademark video set to a power ballad! Looks like I'll be filming a Aussie writhing in the surf then.
The passenger seat was also an unfamiliar position.. I felt sick… so I listened and pondered the science of photography, the technical skill and the size of Shahbaz's equipment(?). How do you actually capture a stunning landscape image? What is the combination of variables and equipment required to create 'epic'? This was however a fun bunch of like minded, maybe a little obsessed, individuals, who are entertainingly knowledgeable. Dedicated to achieving their own epic. I was in a different world. Maybe I should've read the user manual and prepared to use Koalas spare Canon!? But I too could play to my strengths, I know the Isle of Harris, I know the locations. They are maybe photographers… but they need me!
I squinted at my alarm. This was a hotel and it was dark outside… wasn't this supposed to be a holiday??
Erm No. It was very dark and the photographers were keen. Clutching packed lunches, we were heading to the beach for sunrise. They were an excited group. Apart from Koala, they hadn't been to Luskintyre before and I was the guide. Maybe my location knowledge has a value, maybe I can deflect attention from my mediocre iPhone shots of random landscape with chat of Hebridean Gneiss and the Ice Age. I seized it and became increasingly enthusiastic about the miles of white sand and stunning green-blue water. Koala beamed at me and the photographers were enthused but soon began to glaze as I detailed the calcific nature of the sandy beach.
Then I realised. It wasn't just Koala that switched at the prospect of a photograph! This is a breed.. a mentality. All talk of the previous evenings drinks in the bar ceased as the light began to appear, casting a soft glow on the mountains ahead. The assembled group twitched in unison, heads swivelled like demented meerksts as we pulled into the beach car park. In the blink of an eye, the impressive array of tripods were gone. Silently scattering into the dunes. I picked up my tripod and checked the make, just in case anyone asked. Koala handed me a red ball dress.
Ah ok. Was she not telling me something? Perhaps the Chinese chiffon was the new Goretex? A wind and waterproof fabric for the discerning Instagrammer. Was I supposed to model it? Nothing was said so I stuffed it into my rucsac and hoped. Koala had checked her weather app the night before and smiled. The sun rose on cue and the light exploded across the horizon. The Isle of Skye was silhouetted, the dunes erupted and a romantically pink glow was cast across the Clisham range that divides Harris and Lewis to the north. I stood in awe, oblivious to Koala. She was stood in the grass, stripping enthusiastically. Goodness! A little unexpected.. but I will go with it..
'Throw me the red dress… Quickly! Look at the light on the sand!' Ah that sounds familiar… oh the red dress.. I was brought abruptly back to the mission. I saw it too and saw her vision. I was unaware of how bizarre the situation would normally appear to me as I ran up and down the sand trying to find the position as Koala directed me.. but I saw it too. We were in the right place, at the right time. I moved left and lay in the sand, looking for anything that was distracting. She was a good teacher, I was changing the composition… perhaps to find epic.
Then I realised it, Photography wasn't a dark art.
Anyone could have taken most of the images that I had considered to be 'half decent' without any real difficulty. The most difficult thing about creating an image was not really having the right kit or having the technical skills to adjust an f-stop. Yes we have come a long way from the Box Brownie but you don't really need an extensive knowledge of Photoshop to achieve real epic. All that helps, but it wasn't magic after all. The hardest thing about landscape photography is the commitment. It is the hours of doing your homework, waking up early, getting out and being… in the right place
I watched Koala across the dunes, in a red dress, gracefully posing in the growing light and admired her commitment. I am lucky. Lucky to share these landscapes with her. To be in the right place and feel it. Luskentyre was always going to be there, but today the mountains were lit by the sunrise and Koala knew this could happen. We were there, we had made the effort.
I looked at it… it was that simple. I could feel it. That was epic.
Landscapes will always provide photographs if you look for them, but it is nature that makes the 'epic'.
Nature gives us the magic, you just need to take the opportunity to experience and record it.. if you can set the alarm, shrug off a hangover and not worry about the size of your tripod..!
Whimsically yours,
Richard
I was born in Leeds and grew up in the military. Which thankfully has put me in good stead to 'look after' the Koala. I carry the tripod, hold the reflector, drive the truck, make the sandwiches and ensure that the clients have everything they need. So basically I do everything apart from press the button... sorry.. shutter! Apparently I am a hidden literary gem so I get to write the blog and provide creative input when asked!
Join our whimsical journey
We LOVE our adventures. Being outdoors is elemental to us... particularly surrounded by spectacular landscapes, sharing our enthusiasm and documenting the emotion through photography. Nothing can beat that feeling!
We are Kristy and Richard... come and join us on our journey with Kristy Ashton Photography. Follow Kristy on IG for the full pictorial story or read Richards Blog for the alternative route!