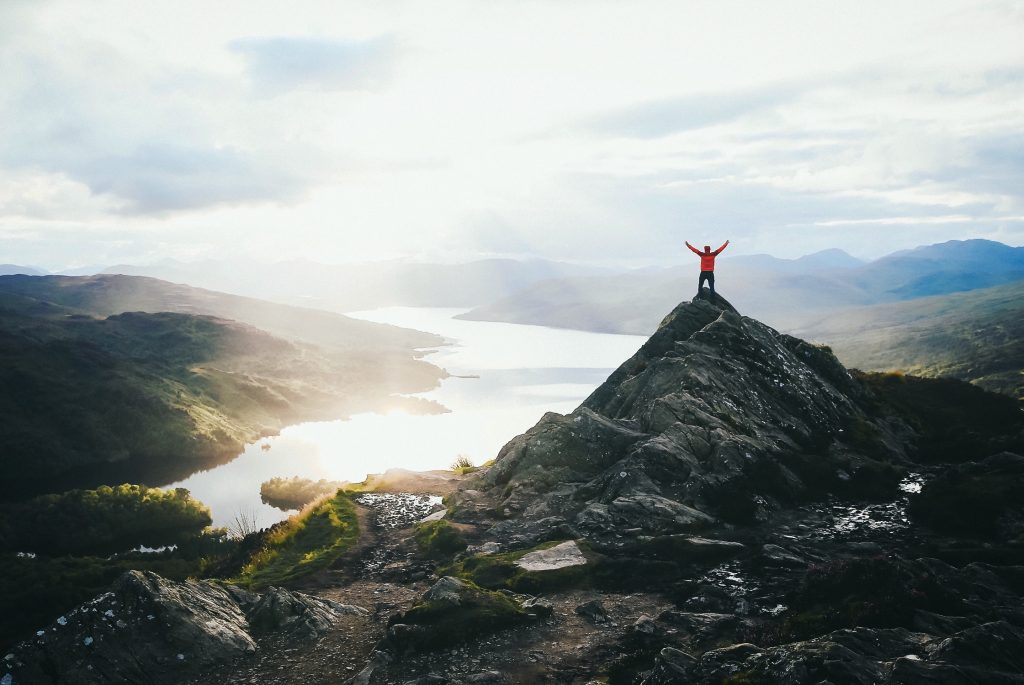 Laugh
That is what we did this year. Laughing with Koala is my overriding memory. Ah.. and the light.. of course. 'It's all about chasing the light' she said that.. A LOT. How could I forget!? So laughter and light … and maybe fog. Oh and it was icy too! I smile as I recall this past year, our first year together. Yes it was a rollercoaster. It was an adventure and I am not quite sure how I came to be a writer??! The year began with an entirely different remit. I observed and contributed where required. I could be relied upon to set the alarm for her, maybe even get out of bed to wave her off as she set off in the dark to meet a sunrise… and this is how it began.
It was New Years Day and Koala set off to climb Ben Aa'n in the Trossachs.. in the dark.. with flu.. armed with antibiotics! But she 'got the shot!' I remember my first text message vividly. I should've known then it was to be the first of many messages…. often broken.. usually hilarious and perhaps sometimes even worrisome.
And so on to Glencoe
Glen Coe was to became an even more memorable place than it already was. It is a spectacular place. A special place that we are linked too. We met there. Koala made her first trip of the year to Glen Coe in early January. She was chasing horses in the fog.. and there was snow! I could only imagine!! She was animated. I really wanted to share this, so I secretly began to develop my skills. I will learn how to pack her tripod to the back of my rucksack… just in case I got the call. Funny how things work out!
The ghost at Dunmore provided a different challenge. Koala called me as I drove home to meet her. 'There was a feckin ghost!! It didn't like my snowdrop!!' She recounted breathlessly trying to explain. Your what?? … a snowdrop? I'm still not sure what that meant but it added another dimension to our relationship. I was to learn to accept and not to question too hard.. however bizarre. Koalas' enthusiasm is infectious. I saw the light too and it was an epiphany. I began to see things differently and I saw the image. I saw the beauty of light on a landscape. I saw what she saw. I get it… I got Koala. We started our adventures. We discovered stone crosses in the fog. The red dress appeared on a Sidlaw hillside.. in the fog. Koala had a vision. I was involved. I even took a picture of her. 'People in Landscapes' was born.
I complain and often question.. but really I love our adventures. Then she went to Orkney. I wished I was going. I asked if there was a need for the tripod. 'I think you'd miss me?' Nah.. I lied. I'd never been to this northerly island cluster… Orkney. The lack of signal worried me. There was no ice but there was wind. Koala doesn't really suit wind. Anything really that upsets her usual elegance and balance!? And sometimes these elements produce her distinctive creative hysteria. 'We're trying to find Twatt!!' Oh really? I recall.. as I ate my lunch. But it sounded fun.. I need a reason to be there. Before being discovered.. as a writer(?) I did appear as the shadowy figure.. 'The Man in Black' .. 'a silhouette in the… fog' for the occasional Instagram post. I was happy with that. I enjoyed being involved, an accompaniment in the artistry of her landscapes. However I was increasingly being asked to 'perform'. Not just walk or stand! 'Bend your knee… open your arms.. look at the tree!!? Be… whimsical.. ?' Now, I am from Leeds and that is a word that I have never before had a use for, but it was to became a word that I had to learn… and it meant so many things !! I learnt.. and saw that running in fields of crops in Perthshire could in fact be.. whimsical. Who knew??
Cockermouth…
The English market town at the mouth of the Cocker in the glorious Lake District. Birthplace of the poet William Wordsworth:".. I wandered lonely as a cloud
That floats on high o'er vales and hills,
When all at once I saw a crowd,
A host, of golden daffodils…"
I announced to Koala. But my recital was lost in Australian hilarity… 'We're at a place called Cockinmouth!!' Laughter… Erm.. it's Cocker.. Too late. She had gone in search of a road sign. I laughed. North Wales. I laugh out loud when I remember our Welsh adventure. Our first proper trip.. courtesy of the National Trust. The Snowdonia National Park is stunning. I trained here. I know the area and I was in my element. Koala loved it. This was a discovery for her and I had introduced her… the mountains.. the coastline.. the castles and yes there are dragons! But I laugh.. at the day of the big place name. I laugh out loud thinking of Koala trying to say it.. We cried laughing and 'instastory gold was made!
The Shot
Loch Awe gave her the shot.. the winning shot of the year. Koala was excited and rightly so. It defined the year. I didn't get up early that morning to catch the sunrise at Kilchurn Castle.. and so cannot claim an assist to the Lady and the Lamp.. in the fog! But what a picture. It caught the imagination and proved to the visiting Americans that being part of Koalas adventure was worth the effort of a jet lagged early start! It defined her art.. and I began to understand what 'whimsical' meant.
Mammut saw it too.. and sponsored boots and jacket appeared!! Not my size. I took a picture of my truck… in the fog.. and hoped I would get a sponsorship too? Mitsubishi must not have Instagram.
Outlander
The year that I became aware of this little known drama.. based in Scotland. It would never take off but I went with it anyway..
Kristy become an honorary Scotlander for the Visit Scotland campaign and I carried a red tartan dress in the back of the car.. just in case we had an opportunity?! I smiled inappropriately. There were to be plenty of opportunities and the red dress became a feature of our trips.. it nearly had its own Instagram account and I was even on call, with needle and cotton, to make running repairs! Koala became adept at changing into the dress in the most unlikely.. and often tourist filled places…. even places where filming had occurred that I knew!! It must be a popular drama.. somewhere??!
I needed her to take a tripod or even a reflector. I was learning the subtle art of reflecting. That would add to my worth.
Then the call came
Scotrail. My first sponsored trip with Koala. Yes I would have to carry bags.. maybe a tripod and yes go on a train. Yes it was public transport but it was my first paid photo trip! Oh it sounded fun. It was.. I felt like I was 18 again.. on leave from the army and sitting on my bags in the aisle, moving occasionally to let someone from the empty first class carriage use the toilet.
But we laughed.. and resurrected a Sheena Easton classic in the process. Not sure if Scotrail got the joke but we saw Eagles with Ewan from Nature Scotland on Mull. He was in his element.. until Koala pulled a red dress from her rucsac and promptly ended a discussion about the breeding pairs as she stripped off on a foggy beach! I was beginning to see that I was also in my element with Koala.
Harris
The Isle of Harris was a holiday. Well.. I am saying holiday.. it was Koalas birthday and we had always wanted to visit the largely undiscovered Hebridean outcrop '….and maybe get a few pictures…?' she said. I'd heard that before. But.. what a holiday.. what an island! We found 'our' beach, we shared it with a hunting sea eagle and walked the white sands in silence beside a turquoise sea.. in awe.. the beauty of the place! 'Perhaps we won't tag this?!'
Faroe Islands was 'Epic.. feckin epic!' … well that was the text that I received one wet Scottish night waiting for a call. Koala was on a photo excursion with Frame Focus Photography to the island archipelago, 200 miles northwest of Scotland in the North Atlantic Ocean! Remote and rugged.. but 'feckin awesome!' Koala was so excited.. animated in text about the Faroes. Don't think she saw a puffin though. She got the shots. I got a key ring. I wasn't jealous.. at all… Must do better. Then I might get another invite. I must add value. Perhaps.. she might be interested in my diary.. 'I think this could be a blog.. ' I heard myself saying… not really knowing what the hell a 'blog' was!! Koala laughed.. She laughed out loud! Yes..I had made it! I was a writer.. I made it to Arran and… blogged!!! Who knew??!
I laughed.
Whimsically yours,
Richard
I was born in Leeds and grew up in the Military. Which thankfully has put me in good stead to 'look after' the Koala. I carry the tripod, hold the reflector, drive the truck, make the sandwiches and ensure that the clients have everything they need. So basically I do everything apart from press the button... sorry.. shutter! Apparently I am a hidden literary gem so I get to write the blog and provide creative input when asked!